Arizona Property Management & Investments
Call For a Free Property Management Quote:
A+ rating with BBB / Honor Roll List with ADRE
Dear Subscribers, If you are planning to take some profits off the table or can no longer afford hanging on to your rental propertiy(ies), this could be the right opportunity to sell it.
Home values have substantially gone up in Arizona since it bottomed out in 2010. In some areas we have surpassed the values at the height of the market in 2005!!!
There are approximately over 300,000 rental properties
in Phoenix Metropolitan Area. Majority of them are held by large Equity Funds. They have now quietly started taking some profits off the table by selling to our #1 buyers, the tenants. This trend will accelerate next year and as fierce competition amongst these equity funds heat up, they are going to flood the market with thousands of unsold inventory driving prices back down again.
If you are planning to sell your property, you should price it according to the market and offer the right terms to avoid getting caught at the exit. We have years of experience selling rental properties with or without tenants in place and short sale.

_____________________________________________________________
Blackstone Tenants Get a Shot at Buying Their Rental Houses
Firm's Invitation Homes unit is selling in Arizona, California
Single-family l
andlords have been losing renters to home buying
Melissa Suniga and her mother had been renting a three-bedroom Phoenix house for less than a year when their landlord, Blackstone Group LP's Invitation Homes, gave them the chance to buy it.
Suniga, a 40-year-old childcare worker, used her security deposit and $2,000 she'd saved from her income-tax refund, along with a county grant and a credit from Invitation Homes that together provided her with $10,600 more for her down payment and closing costs. She expects to complete her purchase of the $150,000 house this week.
"When I started renting, I thought, 'I wish I could buy this home,'" Suniga said in an interview.
U.S. landlords who built rental businesses by buying homes en masse are now consolidating and streamlining their operations, in part by selling for a profit properties that have soared in value or no longer fit their business models. Invitation Homes is the first of the large rental companies to give residents a shot at owning their houses, seeking to benefit from having its own pool of ready buyers who are constrained by a market starved for affordable homes.
Blackstone has
amassed
about 50,000 rental houses in the past four years. While Invitation Homes is still buying selectively, spending about $5 million a week, it expects to cull about 5 percent of its properties annually, Chief Executive Officer John Bartling said.
Staying Put
Selling rental homes to tenants is a way for investors to make more money than they would selling in bulk, and saves them the costs of renovating and carrying the properties until they sell on the open market. It's also a way to help people stay put, keep their kids in the same schools and stabilize neighborhoods, according to Bartling.
"This is an important part of the maturation of the industry and for Invitation Homes as we grow over time," he said in an interview.
About 25 percent of Invitation Homes renters who move out each year are leaving to become buyers, according to the company. That's similar to what the industry's other large firms are experiencing. Colony Starwood Homes has reported losing about 23 percent of departing tenants to homeownership, and American Homes 4 Rent has said its figure is about 30 percent.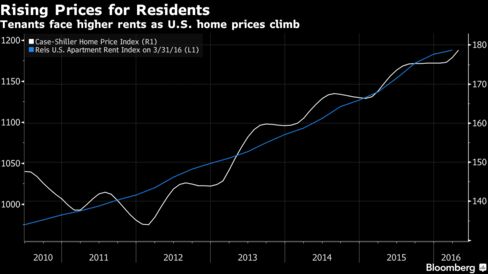 American Homes 4 Rent, the No. 2 single-family landlord, with about 48,000 houses, didn't respond to requests for comment about whether it would be selling homes to tenants. Colony Starwood, the third-largest, with about 31,100 homes, declined to comment, spokeswoman Caroline Luz said.
Homebuying Option
Selling homes to renters is "an evolution of the business model," said Jade Rahmani, a Keefe Bruyette & Woods Inc. analyst. "The differentiating factor in this industry is they can sell to an owner-occupant as well as an investor."
Renters may have better luck buying a home from their landlords than venturing into the open market. Inventory is tight, and home prices nationally are up 32 percent since the 2012 low -- and have risen even more in areas hit hard by the housing crash, with increases of greater than 50 percent in Phoenix and Miami from their troughs. And soaring rents are causing some tenants to view homeownership as more economical.
Invitation Homes started selling houses to renters in Phoenix and Sacramento, California, this year, with plans to expand the program, to be called "Resident First Look," in all 14 of its markets across the U.S. in the next few months.
The company's decision to sell a home is based on a variety of factors, including the concentration of properties it wants to have in individual markets, prices and whether it wants to reallocate funds in other parts of the country, Bartling said.
Rising Prices
Invitation Homes bought Suniga's house for $83,000 in 2013, according to property records. Values in Phoenix have since risen about 25 percent, and rents in the area have climbed 15 percent in the same period.
Now, Suniga is buying the renovated place for $150,000 with a loan from the Blackstone-owned Finance of America Mortgage LLC. A bankruptcy from more than a decade ago, along with a past sale of a home for less than what was owed on it, had raised flags with other lenders Suniga talked to, even though she's brought her credit score up to 660, she said.
While Invitation Homes said its renters-turned-homebuyers are free to use any lender they want, the company is working with a small number of mortgage providers that are more familiar with the new buying program, including Finance of America.
Similar Payment
Suniga's monthly mortgage payment will be $920, about $65 less than her rent, she said. Her down payment wouldn't have been large enough without the help of the Maricopa County, Arizona, homebuyer-assistance program, which required both her and her mother to take an eight-hour online course. She also received a $5,000 credit from Invitation Homes for closing costs and used her security deposit toward the down payment.
That kind of help might lead to questions from lawmakers and regulators in Washington, according to Isaac Boltansky, an analyst in Washington with Compass Point Research & Trading LLC.
"There's inherent skepticism in D.C. regarding Wall Street's motivations in the mortgage-finance market," he said. "Novel forms of credit access are going to be scrutinized closely even though they purport to increase homeownership."
Some housing advocates have pressed rental companies to allow renters the opportunity to buy their homes before properties are sold to investors.
'Help Households'
"A first look for renters, as long as the renter can afford the home and purchases it on fair terms, could help households get on the road toward building equity and limit turnover in the neighborhood," said Sarah Edelman, director of housing policy at the Center for American Progress in Washington. "It's important, though, that they shop around for a mortgage."
Smaller investors, such as Axonic Capital LLC, have been offering renters the chance to buy their homes for years.
"We definitely see it as one of the best ways to sell, because there's no down time or rehab cost between tenants," said Jonathan Shechtman, portfolio manager for residential strategies at the $2.7 billion investment firm.
More Flexibility
Like Invitation Homes, Axonic -- which owns fewer than 1,000 properties, all in Florida -- has more flexibility on timing when selling to existing residents, many of whom are getting low-down-payment loans insured by the Federal Housing Administration, Shechtman said.
Suniga, the Blackstone tenant, is planning to replace some carpeting and upgrade the kitchen cabinets once she officially owns the rental home she had thought was unattainable.
"I'm thankful for the opportunity," she said. "It'll be a shock until I know it's mine."