Call For a Free Property Management Quote:
A+ rating with BBB / Honor Roll List with ADRE
Phoenix Real Estate Update. Show me the money.
Owner/Investor/Designated Broker
THE REAL INVESTORS ARE BACK! TIME TO INVEST AGAIN IN ARIZONA.
I am so excited to report that THE REAL INVESTORS ARE BACK!
(NOT SPECULATORS)
This time it is all about long term investment, up to 10 years or so. They are NOT buying just ANYWHERE. They are buying QUALITY homes in SELCTED AREAS of the market. It is easy to generalize and say buy in N. Phoenix for example. However, that is not going to cut it any more. Where in N. Phoenix? Which subdivision? What are the school ratings in the area? Who manages the H.O.A.? Who is the builder? What is the percentage of the owners' vs tenant occupied? Floor plan, Location, Location, Location.
Tenants have not seen rents so high in Arizona EVER. $1250 is the norm plus lots of $1500 to $2000 even some up to $3000 a month for single family home rentals. I have never seen so many 700 credit score applicants fighting over $1500+ rental in the past 10 years.
We were renting the same homes 3 years ago for $250 to $350 less per month and rents keep going up along with the prices.
Individual Investors, or a pool of them, are buying rentals in the low to mid $300,000 range. It makes a lot of sense!
A)
They get top dollar for it from more qualified tenants. Good tenants take care of the property better. They have less maintenance charges, less turn overs and more money in their pocket.
B)
They get better yield in the long run, higher percentage of return and highest appreciation.
D)
Fewer headaches mean more time to make more money.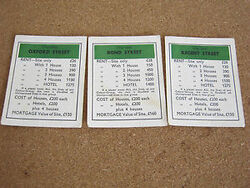 These are the most desirable properties which bring you the most rent on Monopoly Game.
I read the following report below - very informative. I would like to share with you this:
"According to WalletHub 8 Phoenix-area cities hit top 50 healthiest US housing markets. The website had 14 criterias to determine rankings. Those criterias included pricing, days on market, affordability, and other factors.
Texas topped the healthiest markets list with the number 1 positions for large, midsize, and small markets. Those cities were Austin, Plano, and Frisco. Overall Arizona had a good showing on the list. Seattle and Denver were #2 and #3 for large cities.
Here are the Arizona cities that ranked among the healthiestreal estate markets
·
36 Midsize - Scottsdale
Overall Arizona rental market has seen an increase in rents since January 2015 and inventory is low. This has increased demand all throughout the Phoenix area including Tucson. Particularly areas of strong demand where schoold districts are ranked high among National average.
With the surge of rental prices investors are finding tenants quicker that pay a premium. Average annual return on investment has stuck around 9% but we have seen better tenants and have been able to minimze investment risks. It is a great time to buy and hold investment properties in Arizona.
Not every home in the valley is a good investment. Look for desireable areas that have good school districts, low crime, shopping close, and good neighborhood zoning. These factors can help attract the right tenant for your home."
Please give us an opportunity to help you with all you rental investment properties from acquisition to leasing, managing and sale. Thank you.
A+ rating with BBB / Honor Roll List with ADRE